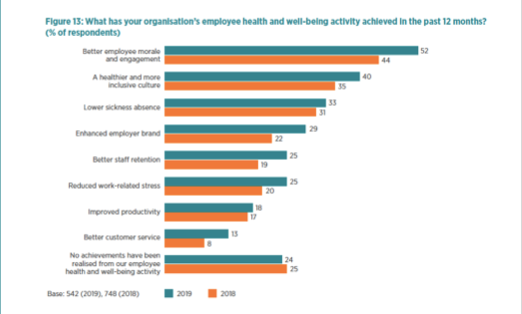 CIPD Health and Wellbeing Annual Report 2018 – Are you measuring health and wellbeing success?
Absence is only one area of measurement.
The 2018 CIPD report highlighted and celebrated that the average level of employee absence, 5.9 days per employee or 2.6% of working time lost, is the lowest ever recorded by their survey . In 2018 over 90% of employers reported their absence and 16% of respondents reported that on average their employees had ten or more days' absence over the last year and 4% report average absence levels of 15-plus days per employee per year.
The report also celebrated other impacts the employers tracked and reported on – often missed but valuable to collect and share with those who have to meet budget expectations.
For more information on award winning, performance focused health and wellbeing programmes please give us a call on 01924 666295.